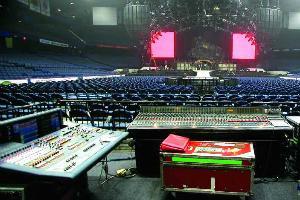 In a large-scale show sound becomes an essential element, to such an extent that in the good disposition of it is the success or failure of a production. Here we present some notes from experts that will surely be very useful in their daily work.

By Santiago Jaramillo H.

In terms of sound, as in many other areas, even the smallest detail must be taken into account when executing excellent planning. This in order to obtain, as is the desire of all production, impeccable results, and more if it is interventions in large-scale shows.

For this topic, and as explained by Nicolás Betancur, belonging to the technical support team of the Bosch company, we must first start from the fact that there are two different types of "mega events", in order to identify the best work formula, they are, tour concerts or large "mobile" productions, and fixed or semi-fixed installations.

To take as an example one of the largest "mobile" mega-productions, the Bosch representative alludes to "Live-8", a series of concerts organized to help the African continent in 2005. Although it was some time ago, it has been one of the biggest events in recent times, simultaneous concerts were held in all the states of the G8 group and in South Africa, with a total attendance of two million people and two billion viewers.

On the other side of the coin, you have mega events, such as the Football World Cup, which takes place every four years. In this case the systems that are installed in the stadiums permanently or semi-permanently are equally impressive against their live part.

"For both types of events, the technical and commercial conditions are fundamentally different. In the case of concerts and tours, the systems are required by the artist's production team through a list commonly called 'raider'. The various professional Audio/Lighting rental companies, then, compete with a 'counter-raider', that is, the sound system they propose can satisfy these conditions. In the case of installations, a chain similar to this one is managed, but with totally different protagonists; an architecture team made up of consultants makes a design, which results in a specification of requirements, which the Integrators proceed to compete through a tender, and then proceed to install, "says Betancur.

The fundamental aspects to take into account then vary considerably depending on whether it is a concert or an installation, however, the considerations are fundamentally the same, according to this expert.

Budget
It is worth clarifying that in a live event, the rental company rents equipment from your property to cover it. Once the event ends, the contract is terminated. In the case of installations, it is usually the owner of the enclosure who makes the investment, and therefore the equipment remains installed to be used in the future.

Acoustic considerations
Is it an outdoor event? If so, how is the configuration of the audience (how many attendees, where they are located), and what environmental conditions the system must support. If it is an event in an enclosure, then the acoustic response of the venue must be taken into account. There are places so acoustically complex (with a high degree of late reflections or "reverberation") that they can make a high-quality system unusable in perfect condition.

Logistics and work team
These productions are complex, so it is essential to have organized work teams. There are various equipment interacting in the production (audio, lighting, telecommunications, television, security, electricity, etc. These teams form an interdependence between them, and the integrity of production is a "chain" that is only as strong as its weakest link. Any complications in any of them will impact the functioning of all the others.

Latest trends
Regarding research, innovation and the latest trends in the sound segment for mega events, Juan Carlos Yepes, sales manager for Latin America and the Caribbean of the meyer Sound company, points out that "the latest trends incorporate technology that seeks functionality and help simplify processes including science and advanced technology in an easy-to-use and understand package, for example John Meyer has long been working on a new form of synthesis of wave fields in which the wave field is generated by a spherical loudspeaker with many small transducers individually controlled by a microprocessor, it can be achieved that a speaker behaves as a physical and natural sound source, which allows very interesting possibilities for new types of speakers."

Likewise, he notes that "we see pleasantly how the industry is finally standardized with AVB (Audio / Video Bridging), which is a new standard that allows synchronized transport with low latency of audio, video and data over Ethernet, all these trends will bring better ways to meet the needs of users. A trend we relentlessly pursue is to simplify our tools and make them more intuitive and easy to use. There are advanced users and others not so much, we want our products to be able to be used by everyone," emphasizes our guest from Meyer Sound.

Ewan McDonald, application engineer at Adamson Systems Engineering, said: "Line Source Arrays are, without a doubt, the biggest trend in the last decade. It is extremely rare to find a large format event that does not have one of these settings. However, more recently, there has been a big push towards using sub-low cardioid configurations. The use of flown line arrays has also become popular. The distribution of digital signals has provided enormous advantages in large-scale events. The use of fiber optic loops allows the cable to extend for more than one kilometer without degradation of signal quality. Digital audio networks also make it possible to distribute a vast number of inputs to any location on the network."

---

Meanwhile, the representative of the Bosch company mentions that there are various types of systems that participate in an audio production, and that in all of them there have been advances in recent years. Let's look then at what the main ones are.

Speakers
In the last decade the use of linear arrays or line-arrays has become popular, due to their versatility in several aspects. These have the ability to cover even more distant distances, and also enjoy a certain capacity for modularity in terms of the number of boxes in the arrangement and their orientation. This is especially important for "mobile" productions. However, line-arrays are not the only valid solution, and sometimes they are not the most optimal. Conventional trapezoidal boxes are also an excellent alternative if used properly.

The current market trends, especially with the recent popularity of line-arrays, is to make them increasingly portable (i.e. lighter and smaller) but increasingly with sound pressure capacity.

Electronics
In this segment are mainly mixing consoles, processors and amplifiers. There are two characteristics that dominate the latest trends in the performance of these equipment.

The first is that they operate on a digital audio platform. Although there is the "purist" current, who claim that there is no better sound than analog (and it has not been possible to prove otherwise), electronics has already developed to such an extent that it can be argued that it is "impossible" perceptually to notice any difference in a live environment.

However, the use of digital audio allows many important advantages for these events, such as the consolidated transport of multi-channel audio over long distances, the identical processing of all channels and the ability to insert digital signal processes (DSPs), with capabilities that are not possible to perform with analog filters. Unprecedented system performance is then achieved. In addition to this, audio can be delivered easily and with full quality to complementary systems such as recording and broadcasting.

The second is the incorporation of network systems into the equipment. In today's "state of the art", mixers, processors, microphones, amplifiers and in certain cases the speakers themselves each have their own IP address or similar, which allows remote control and monitoring of all their components. This is why we see these mega-systems being easily controlled from one place (fixed or mobile) through simple software that runs on any laptop.

Wireless Systems
Lately there is also a sharp increase in the number of RF channels required to cover a production. In response to this, wireless system manufacturers have developed their products to operate within narrower bands (at 1/6 of the bandwidth they used before), more efficient scanning and frequency switching algorithms, and variable emission powers to intercomordinate systems and their frequencies (going back to the previous point, always conversing with each other via an IP network to coordinate automatically). The efficiency and intelligence of these teams has developed enormously in recent years. The trick is to maintain the integrity and quality of the signal without any compromise, even if it lowers the available bandwidth. It is almost literal to think of the quality of a wireless system as proportional to the number of channels it can accommodate simultaneously without having interference or sound quality compromises.

As for the recommendations that you could leave to our readers in this regard, the representative of Meyer Sound indicates that "the most important is to carefully determine the type of company with whom you will be starting a business relationship."

For his part, our guest from the company Adamson Systems Engineering, maintains that "First of all, choose a product that fulfills what it promises. One that has a proven track record in large-scale events and can deliver the power, consistency, shooting (distance covered), and clarity that is needed. From here on out, design is everything. The best PA system in the world will not perform properly if it is poorly designed. There are a huge amount of considerations in designing a large-scale event and this is just a tiny hint. If you do not have the experience to design a system of these proportions, the manufacturer of the PA system must be able to help you or recommend someone who can guide you in the design."

Finally, our guest from the Bosch company assures that "the first recommendation is to go step by step in its expansion, starting with medium productions before assuming the high responsibilities of a mega event. In these cases, strong ties with the assembly and production teams are needed, as well as a deep knowledge of the systems that are being handled. If we want to achieve sound, maintain it, and even make good sound, we need to be very familiar with the system."

Similarly, he recommends that "if the customer is already ready to take on such production, then it is very important to think of audio components as an integrated and global system. This isn't just a sum of microphones, consoles, processors, amplifiers, and speakers; the whole system must have a high quality. It is generally better to opt for integral systems of speakers, amplifiers, processors, consoles and so on. Few brands that shelter several products is better. For example, if the speaker designers have interaction with the processor engineering, then the DSP that can be selected 'out of the box' on the processor is much better (the crossover and limiters are optimized out of the box). In addition to this, if the devices have been designed to work with each other, then they can all be monitored and controlled from a single point. Otherwise, we would be inventing processes, forcing connectivity and monitoring several different systems," he concludes.