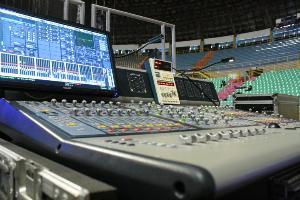 One of the basic elements in the success of a "mega event", that is, a show aimed at a mass audience, are definitely the consoles, because they depend, in large part, the fidelity of the sound, so you should look for in them ease of operation, quality, confidence and, of course, great support.

By Santiago Jaramillo H.

When asked what aspects should be taken into account when choosing a console for a mega event, Ricardo Mantini, specialist in sound applications of the company Avid for Latin America, affirms that there are basically three variables: reliability, audio quality and ease of handling.

However, our guest warns that you have to take into account all the details, that is, a "mega event" is the sum of several factors, such as the horn systems (PA), the microphone, the instruments (backline), until you reach the cables, everything makes a final sum that results in a good sound, because it is clear that if from the source you have the correct elements it will be easier to process it and, at the end of the day, having an excellent sound result, but if it is already bad from the beginning it will be extremely complicated to work on it and that the final result is optimal.

On the other hand, Miguel García, representative of Yamaha Mexico, maintains that "there could be quite a few factors to take into account, but I think the main ones would be the number of input channels, usually in the "mega events" more than 96 channels are used. Also important is the number of outputs, which are divided into auxiliary mixes (audio returns for musicians), matrix outputs to power the different speakers placed at the event site, effect processors, and dynamic processors per channel. In the same way, it is important to take into account how many equalizers (graphics and parametric) the console has, as well as the number of bands, but above all, the ease of operation of the equipment, the quality and trust that supports the brand so that at the time of the event no problem happens, "he emphasizes.

Now, about the recommended number of channels on a console, García replies that "we could say that you always have to be a little too much, since at the time of the show there are always additional instruments that were not contemplated as is the case of guest musicians, among others".

Two elements that can be considered as critical in a world as changing and demanding as that of professional sound, we refer to research and innovation, Miguel García highlights that thanks to the digitalization of the equipment of some years ago to date, the implementation of new technologies for events has been facilitated, such is the case of Ethersound, which refers to a transmission of up to 128 audio channels by means of a single Cat5 cable up to 100 meters or using a medium converter with an optical fiber for up to four kilometers.

Another technology, which according to our guest is also being implemented, is MADI (Multichannel Audio Digital Interface), which is used for multitrack recording and playback of up to 64 audio channels, by means of a fiber optic or coaxial BNC cable.

---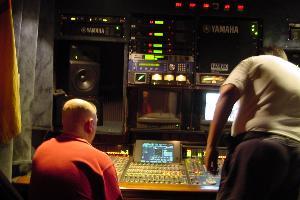 Also, among the innovations are the internal DSP components, which can process signals faster and more efficiently, as well as the implementation of touch screens that make it easier to handle, and obviously, the number of input and output channels are increasing at the same time that they are becoming lighter.

For his part, the representative of the company Avid, highlights that "with the launch of the Venue line of digital consoles for live sound, two very important innovations were achieved, the use of plugins and virtual soundcheck, something that was previously only intended for the studio market. While at first there were engineers who were reluctant to use plugins because it was something completely new, many others saw it with pleasure, because it allowed them to use the same processing they use in the recording studio. With this the company marked a before and after in the use of digital consoles, something unthinkable until that moment, and that now other manufacturers are trying to incorporate into their systems, "he ponders.

Successful solutions
As expected, some of the elements that are included in this type of equipment often do not fulfill the specified functions and, others, fall short when it comes to meeting the real needs of users, so we encourage our guests to indicate what aspects should be unmissable in a console that will be used in a "mega event" and that it is considered as a successful solution.

After the above, Miguel García explains that "there may be several aspects to take into account, from the quality in the Pre-Amplifiers, since it has a lot to do so that the sound at the output is clearer and of higher quality, that it is intuitive or quick access, and easy to use, since during the event there are many changes that have to be very fast, according to the dynamics of the music, so the operator has to respond in the same way. Another important point is that it has dynamic and effect components, that it has high quality effects for the processing of voices and instruments, that it has dynamic processors per channel, in addition to parametric equalizers of four bands to the inputs and outputs, minimum graphic equalizers, that is, the more tools it gathers, the better sound we can achieve, of course, under strict security parameters."

And how do you know if a console is secure? Well, simply knowing the experience and trajectory of the brand, this is the main item when evaluating this aspect.

Regarding the challenges posed by the segment, Ricardo Mantini, ponders that "we are in a stage of transition and maturation in which despite the fact that digital tables have already been on the market for some years, they have not yet been imposed 100%. Just as there have been generational changes of sound engineers, so is there with digital consoles, I think it's only a matter of time. So I think the challenge that has been posed is the change of mentality in the users, to demonstrate that they are reliable and that the audio quality is equal to or superior to many famous analogs".

In the above agrees, the representative of Yamaha, who expresses that "make the technology reach users and become familiar more quickly with it, that is, that they use it easily, that they know how to configure it successfully, since there is still a lot of fear in the use of these equipment and sometimes they do not have the opportunities to attend training / updating courses and when new products arrive we do not know what to do with them and we see them as weirdos," garcia emphasizes.

Our guest also expresses that "in Yamaha we know this well, and we care about taking this knowledge for free, giving seminars and training courses, which we regularly announce on our website: www.yamaha.com.mx, they just have to register, wait for confirmation and that's it".